Building blocks for a better future
Whether you have a short-term goal in mind or you're planning for the distant future, these accounts can help you reach your financial destination.
Set up a strong foundation for your finances with a savings account that will grow your money steadily at a competitive rate.
$10 minimum to open (keep at least this much in the account to avoid a $1 monthly maintenance fee)

Access money at the ATM using your free debit card

Sign up for Online Banking to track your account's growth, transfer funds, access E-Statements and more

Download our app to track account activity on your mobile device

Regular savings accounts receive a monthly statement or you can opt for record keeping with a savings passbook
Super Saver Savings (Ages 10 and younger)
Give your children or grandchildren a head start with their money management. You can help them get excited about saving money and earning immediate rewards for their good habits.
Get started today with just $10

No monthly maintenance fees
Earn a stamp for every $10 deposit and grow savings at a competitive rate

Redeem 5 to 40 stamps for prizes ranging from candy to a treasure chest prize

Redeem 50 stamps for a $25 savings deposit (limited to once every 24 months)
There are so many ways children can earn Super Saver Stamps:
Deposit at least $10 (one stamp per day)

Visit a branch during their birthday month

Bring in school awards

Earn an "A" on report cards (one stamp per report card)

Show us Community Service Merit Badges from Cub Scouts, Boy Scouts, Daisies, Brownies or Girl Scouts

Show us rank advancements for Boy/Girl Scouts, karate, etc.

Easter Bunny Day

Santa Day

Super Saver Sammy Day

Other bank community events as they're announced, including our Shredding Events
Next Level Savings (Ages 11 to 17)
Now that you're starting to earn your own money, you can make your savings work a little bit harder for you.
Sign up for Online Banking to track your account's growth, transfer funds, access E-Statements and more 

Download our app to track account activity on your mobile device

Earn gift cards (see details below**)


Available Bonuses**
Earn Two $5 Gift Cards
Download our Mobile Banking app

Sign up for E-Statements

Like us on Instragram and/or Facebook
Once you have completed the following steps above, come into the bank and show one of our Customer Service Representatives to receive two $5 gift cards.
You can also earn $5 gift cards throughout the lifetime of the account. Simply make deposits into the savings account and once the account has accumulated $1,000 in deposits, you are eligible for a $5 gift card. Come into the bank or give us a call and let us know of your accomplishment. (Gift card is limited to one per 12 month cycle. Deposits start accumulating as of their 11th birthday. Prior deposits do not apply toward the $1,000.)
**The value of the reward may be reported on IRS Form 1099-MISC, and may be considered taxable income to you.
Gift buying during the holidays shouldn't be stressful. 
With our Holiday Savings Account, you can earn interest while you save for the season of giving. Watch your savings grow with weekly, bi-weekly, or monthly transfers that you can set up with our online banking or mobile app.
Plan ahead for next year's holiday expenses.
No monthly service fee.
Monthly paper statements or eStatements.
$2.00 minimum to open.
A check for the balance of your Holiday Savings account will be mailed to you in mid-October.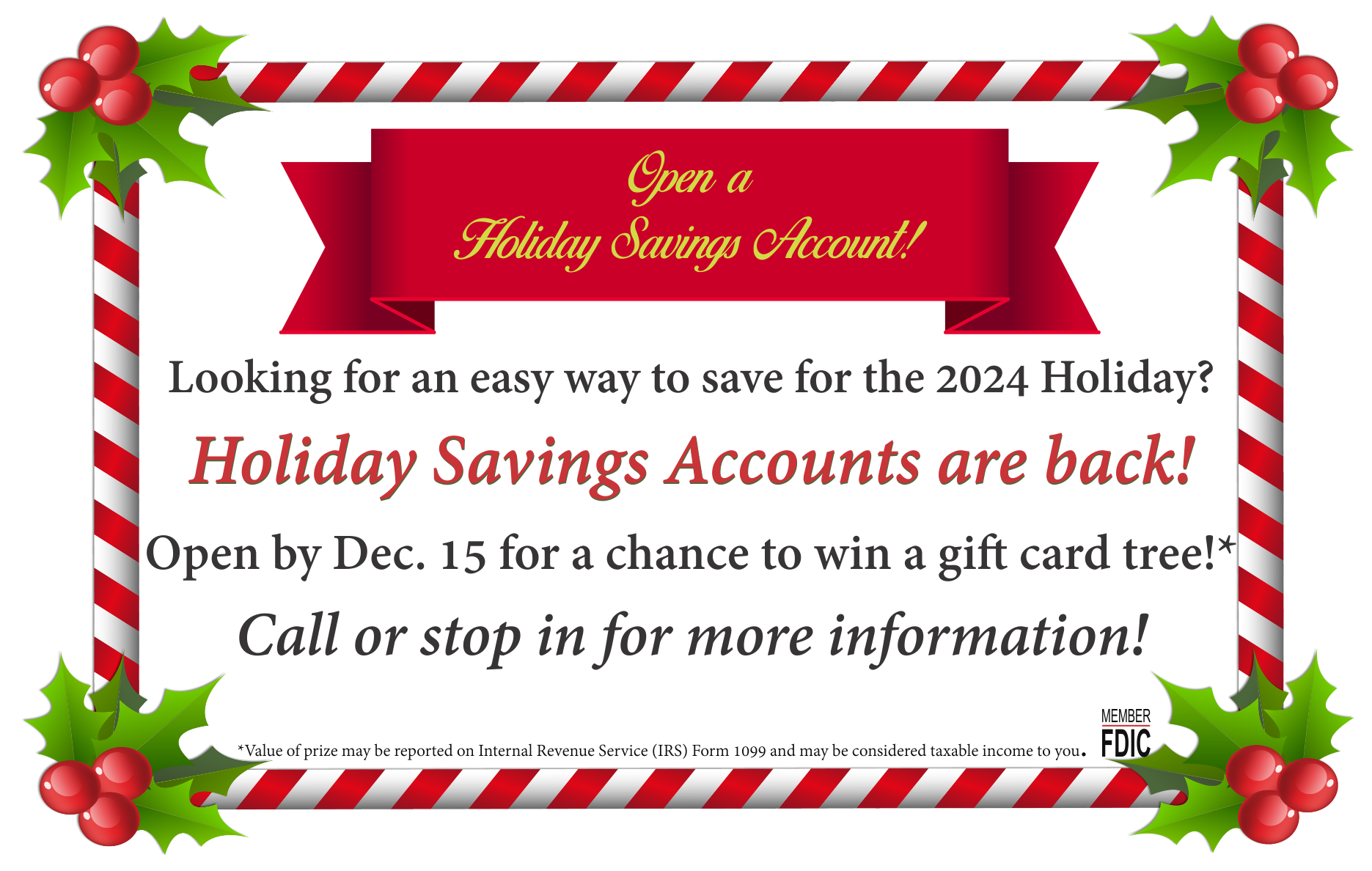 Certificates of Deposit (CDs) and IRAs
Put together a strategy today that can pay off in the future. When you set aside money in a CD or IRA, you can take advantage of long-term growth to maximize your savings.
CDs pay a better interest rate than a passbook savings account, but require you keep your money on deposit for a few months to several years.


An IRA is a great way to save for your retirement. An IRA lets you set aside money each year, with earnings tax-deferred, until withdrawals begin at age 59 1/2 or later.
Choose from two CD options with minimum opening balances of $1,000 or $2,500

Opt for an IRA with a $500 minimum opening balance

Sign up for Online Banking to track your account's growth

Click
here
for our CD rates.
First Bank of Manhattan & New Lenox are full-service banks with branches in Will County, Illinois.